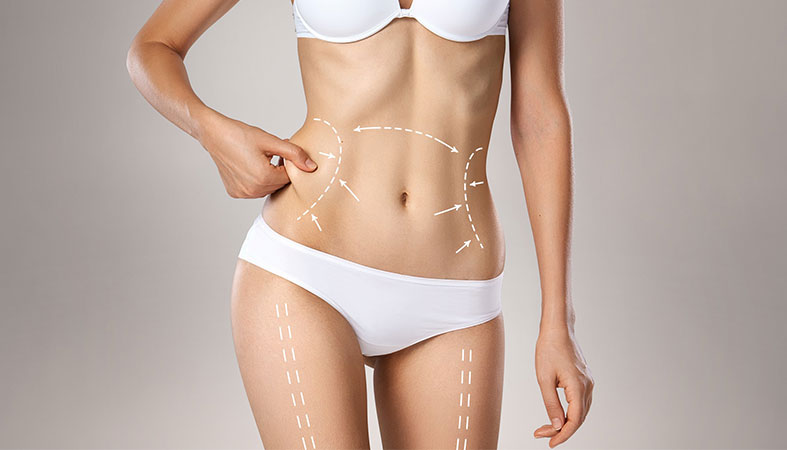 February 14, 2020
Vaser Liposuction: Recovery Tips
A modern version of the liposuction, Vaser uses ultrasound energy to breakdown fat by a process of 'emulsification' from certain parts of the body. This provides an efficient method to remove stubborn fat deposits without much damage to surrounding tissues. Contrary to popular belief, liposuction isn't a permanent weight loss solution, it mainly helps to contour and sculpt the body.
Vaser Liposuction is less invasive compared to traditional liposuction and with minimal downtime. However, that doesn't mean it will not require any recovery time at all, there are still plenty of things you need to be careful about. Here are some top tips and tricks to help you maintain your beautiful new body shape.
Follow recovery instructions properly
So even though this surgical procedure is minimally invasive, since the body has been intervened, it needs time to adapt to the changes. Therefore, a set of recovery instructions are given which will help you to get back to your routine faster and also help maintain the results for longer. The recovery time on average is about 5-7 days, where you are required to rest and avoid any kind of strenuous activity. During the first few days, there may be some bruising, tenderness, and pain. It's highly recommended to increase your water intake, during the recovery phase.
Wear compression garments
Once you have had your procedure done, you will be given a set of recovery compression garments that are specifically designed to help reduce post-op swelling and bruising. They are not the most attractive or comfortable pieces of clothing but will help achieve better results. They also help reduce the risk of fluid retention and provide air tightening to assist body contouring. So, make sure they are fitted well, yet comfortable enough to wear for the whole day. You are required to wear them for at least 6 weeks.
Apply Fluid absorbing pads
You might experience weeping of fluids for the first 2-3 days from the treated body regions. This is normal, pads will be applied on the skin immediately after the surgery. These will be kept under the garments and will absorb the fluids.
Post-Operative Massages
Massages for lymphatic drainage (MLM – Manual Lymphatic massage)
Lymphatic drainage massage has overall benefits for the body but in this case, it helps to squeeze out excess fluid and swelling that can result from the procedure. A minimum of 4-6 massages are required but more massages are highly recommended to achieve optimal results.
Icoone (mechanical vibration massage)
RF/ultrasound massages
Care for surgical sites
Now even though there isn't any invasive surgery involved, a small cannula is still being used to suction out the melted fat cells. It takes approximately two weeks for these incision wounds to heal after Vaser liposuction surgery. Proper care should be taken for your wounds to avoid sepsis (infection) during the recovery period.
Be patient
Just like any other surgical procedure, this also requires some recovery time. For some patients, it is faster, while for others it can take up to 3 months to minimize bruising. Therefore, it is so important to take care of yourself during this period to ensure the best results.
FAQS
Is Vaser liposuction painful?
The procedure is done under local anesthesia however some might experience mild to moderate pain after it wears off. For this, you will be provided appropriate pain medication
Will I lose weight permanently after Vaser Liposuction?
Vaser Liposuction isn't a permanent weight loss solution; it mainly helps to contour and sculpt the body and remove stubborn fat. We recommend following a healthy lifestyle and diet to maintain results for longer.
How long does recovery take after Vaser Liposuction?
Usually 7 days, some might experience bruising, irregularity and hardness for up to 3 months. Therefore, appropriate care should be taken to ensure a faster recovery.
Is there any specific diet I need to adapt to?
We encourage increased fluid intake, mostly water, especially during the first 24 hours of recovery. This helps flush out the anesthetic fluid from the body. We also recommend healthier food choices for the long term.
Is driving or working-out allowed during the Vaser Liposuction recovery phase?
It's advised not to do any driving during the first 24-48 hours of recovery and avoid any kind of strenuous exercise during the initial recovery phase. Also, adhere from these tasks as strong painkillers are prescribed after the procedure.
How long till I see results after Vaser Liposuction?
You might not see any immediate desired results; some people start seeing results after 1 month. On average, complete results will be noticed at 6-8 months.
Can I take any medication during this time?
Several medications will be prescribed for pain, swelling and wound healing. We request not to self-medicate during this period. And if you are taking any medications for other health issues, it's better to get them checked with your physician first.
If you would like to know further information, please contact us today!